Hi everyone!
So sorry for the long break.... things have been so crazy. The kids are getting ready to start school here on Weds, so I have been running around trying to make sure they have all their appointments taken care of. Then our embroidery business has been taking off, so I have been working like crazy to get everything done there because if I get behind there .... just dont want to think about that. On top of all that, my insomnia and sinuses have been nuts..... then the cherry on top, my computer got an awful virus that almost made me lose everything. Yuck, yuck, yuck.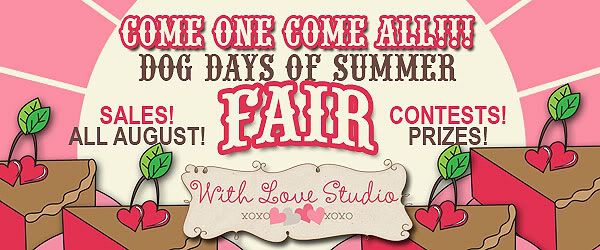 Ok so now that you are caught up on my crazy life, we are having a great time over at With Love Studios. We are having a
Dog Days of Summer Pie Eating Contest
, which just means that we are giving 2 templates away per week that you need to complete layouts for and then you get prizes! On top of that, each of the Designers are having sales at various time thoughout the month. This week is my week to give a prize to the pie eating contest participants. Then I will have my shop on sale from the 10th - 18th..... it will be 45% off!
Now with all that fun going on.... how can you resist! I haven't had anything new just yet but I have been working on a kit for the Feature I have coming up in a online publication. The kit is very out of my comfort zone but I think that it came out beautifully. Can't tell you anymore than that until its released but be on the lookout for my post.
Have a blessed day!