Good Friday Everyone!
Hope you are enjoying the beginning of a wonderful weekend for moms. Its raining here but its not putting a damper on things. Over at With Love Studio, we have started off with a bang. We are having a Mothers Day Scrap-A-Thon and
my shop is perfectly priced at 60% off
for the whole weekend. There is even more..... special challenges, RAKs, freebies and fun plain scrapbooking fun!! What else could you ask for for Mothers Day? (Ok I would love to have my house cleaned and all the chores to be done.... but scrapping for the whole weekend is pretty great too!)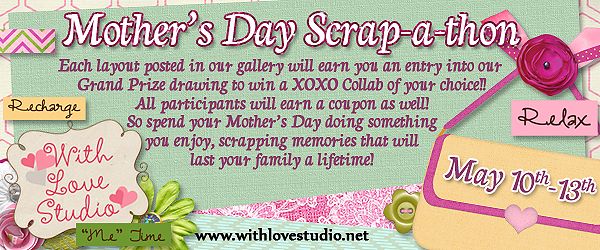 Head on over to
the Shop
to pick up some goodies then head on over to
the Forum
to see all the ways to use those kits and get those layouts done.
Have a blessed Mother's Day Weekend!