Hi everyone!
I am so glad to hear you are loving the last blog train. I have to admit that I was a little worried because a lot of Designers opted out of this month because of the color scheme. I have had wonderful feed back and love it all. Thank you all that have left me a little thank you or even more! I so appreciate the feed back and thank you's.... its what keeps me offering the freebies for you.
Ok so this week is Independence Day in America and most of you, at the least the ones who follow and read my blog. know that I am a military spouse. For those reasons have decided to put
my entire shop
for sale for 25% off through the whole mont.... but wait, I know a lot of you wait until everything is dirt cheap - its ok, I am one of them also, so I have also got a special sale going on for only July 4th, 5th and 6th (which will include my new releases). For those days ONLY, what ever you purchase from my shop, I will match you with a coupon that will be good for my shop only until the end of July. What could be better???? Basically you will be getting 2 x the amount of items for the same low price, which is even on sale..... I know I am crazy huh! I just want to be able to thank you and not with just a mini freebie on my blog.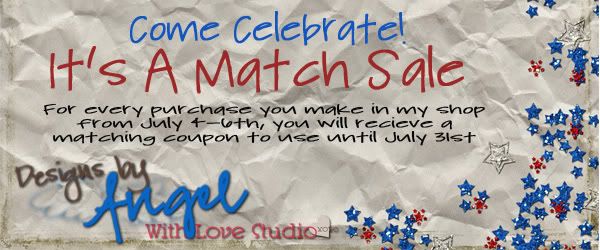 Now I know you are all dying to see what I am releasing on Friday (and probably because I haven't released anything in a while) Well we have the Lovely Colors over at With Love Studio and this month the colors are of course Red, Off White, Blue, Navy and Yellow. What else could I come up with than a kit that interwines the Military, Home Coming and a Big Ole Party?!?! Thats what I have done and here is a sneak of it.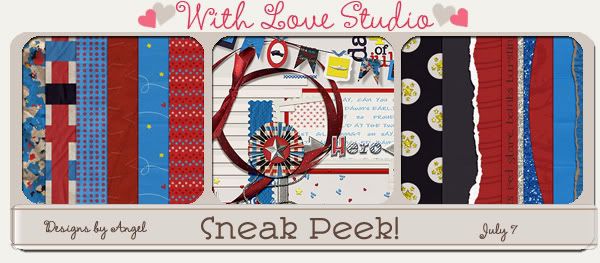 Now if what I am offering isn't enough incentive to drag yourself over to the shop...... We have a whole new look at With Love Studios, you can catch a little bit on the sneak peek ad, that you just have to come check out. Not just that we have challenges gallore that you must check out and lastly FREEBIES!! When you swing by
the shop
, check out the blog for some sneak freebies that will coordinate with all the Lovely Colors being released. Now just to let you in on a little secret, not all of the Lovely Colors are 4th of July related, we have several that took the colors and ran with them.
Have a blessed day and holiday!